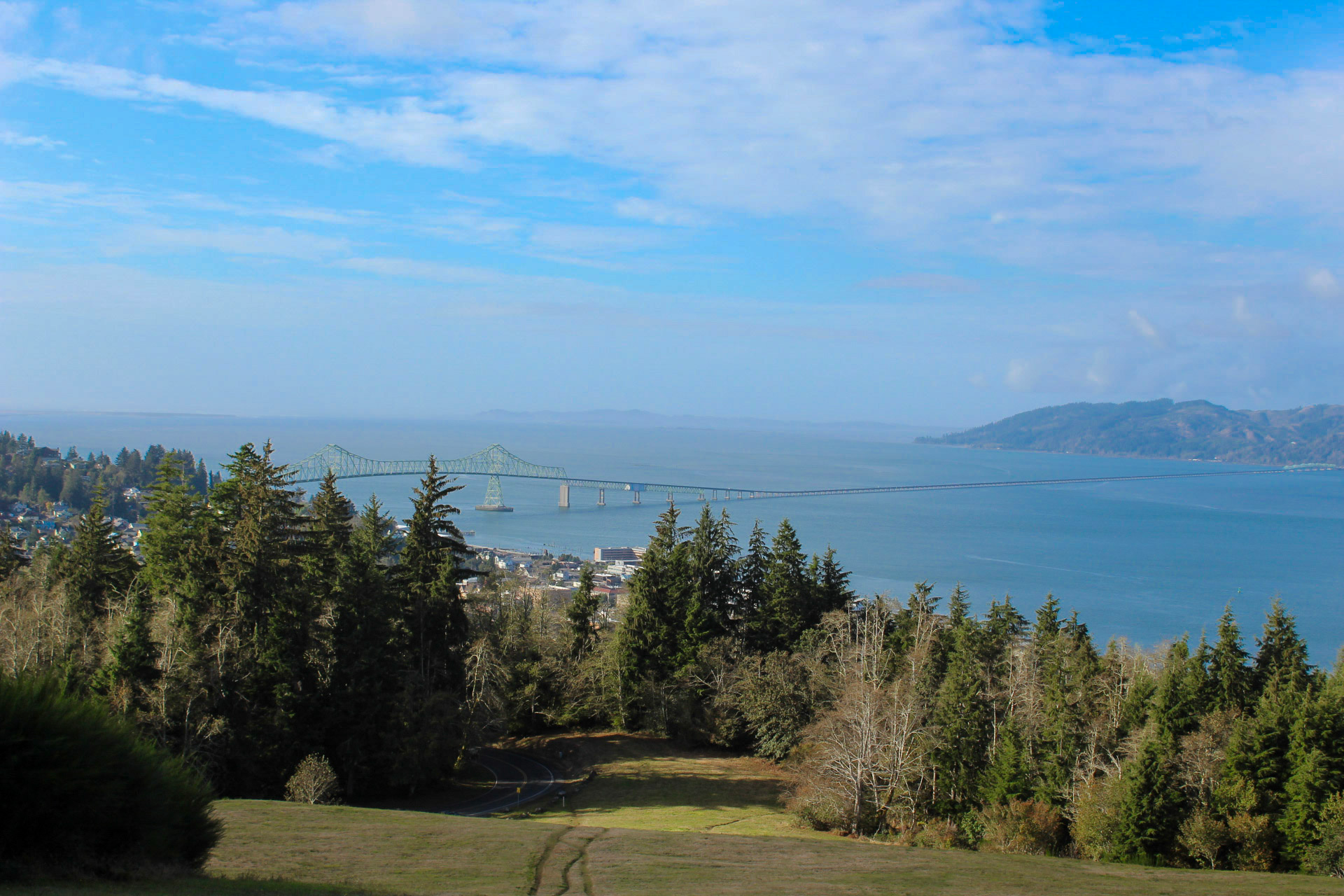 At first glance, Astoria might look like a sleepy town on the Columbia River, but first impressions can be deceiving. After moving here and exploring the area, I've found so many things to do in Astoria, Oregon, and can't wait to share them with you! Astoria is teeming with attractions and activities – from museums and breweries to hiking trails and boat rides, the list goes on and on.
It's honestly hard to run out of things to do in Astoria. There's so much history, culture, and natural beauty to explore here to discover here, no matter when you visit or what your interests are. If you're headed this way and wondering what things to do in Astoria, Oregon, check out these 33 ideas to help you make the most of your trip!
33 Best Things to Do in Astoria, Oregon
The Oregon Coast is a beautiful place, and Astoria is proof. Whether you want to hang out downtown and brewery hop or venture out to take in the area's natural beauty, there are so many things to do in Astoria, Oregon. Pick a few from the list below, or check them all off!
Astoria Column
As far as tourist attractions go, the Astoria Column is a must-visit while you're in town. You'll experience breathtaking views of the Columbia River and rolling hills covered in pine trees. You can climb to the top of the Astoria Column for even better views, or hang out at the grassy park below.
The Astoria Column is a great place to visit with kids. Purchase some balsa wood airplanes at the gift shop, climb to the top of the column, and have the kids let their airplanes soar down to the ground – good, old fashioned family fun!
Astoria Underground Tours
Underground tunnels were recently discovered beneath Astoria. If that gets your adventure senses tingling, there's good news – you can now tour the hundred year old tunnels that run under the town! A guide will lead you through the tunnel system, and teach you about the people who lived (yes, lived) there, and why the tunnels were built in the first place.
Columbia River Maritime Museum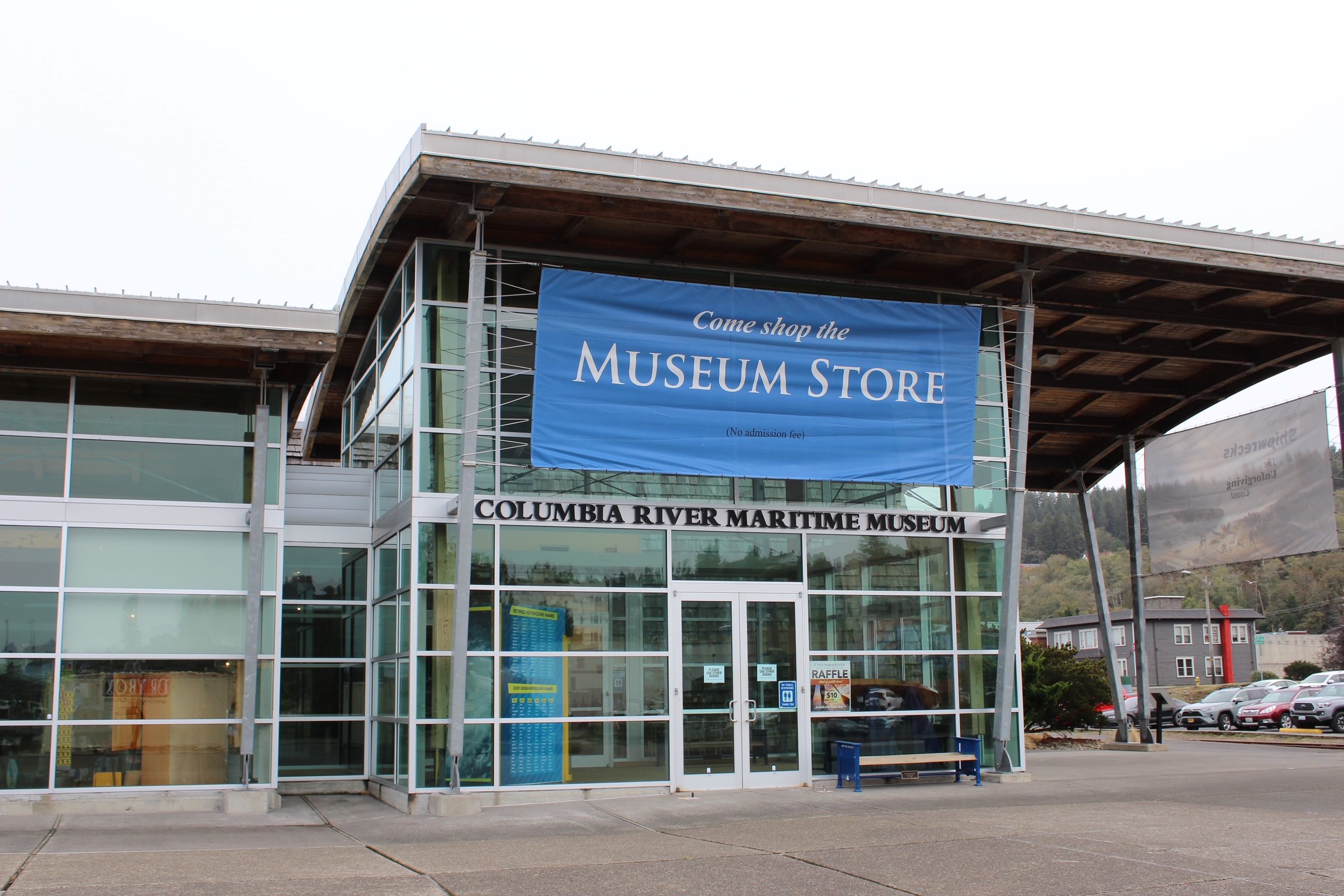 The Columbia River Maritime Museum is a museum hosts stunning exhibits and a collection of real life maritime artifacts, from a piece of the Exxon Valdez to a 44′ Coast Guard lifeboat. The Museum has several exhibits on the Columbia River Bar – the spot where the Columbia River meets the Pacific Ocean – known as the "Graveyard of the Pacific."
Added bonus: The Columbia River Maritime Museum is right next to the pier where you can board and experience the Lightship Columbia. The pier is also home to two 210′ Coast Guard cutters. Snag a pic and read a little about their history from posted signage nearby!
Astoria Sunday Market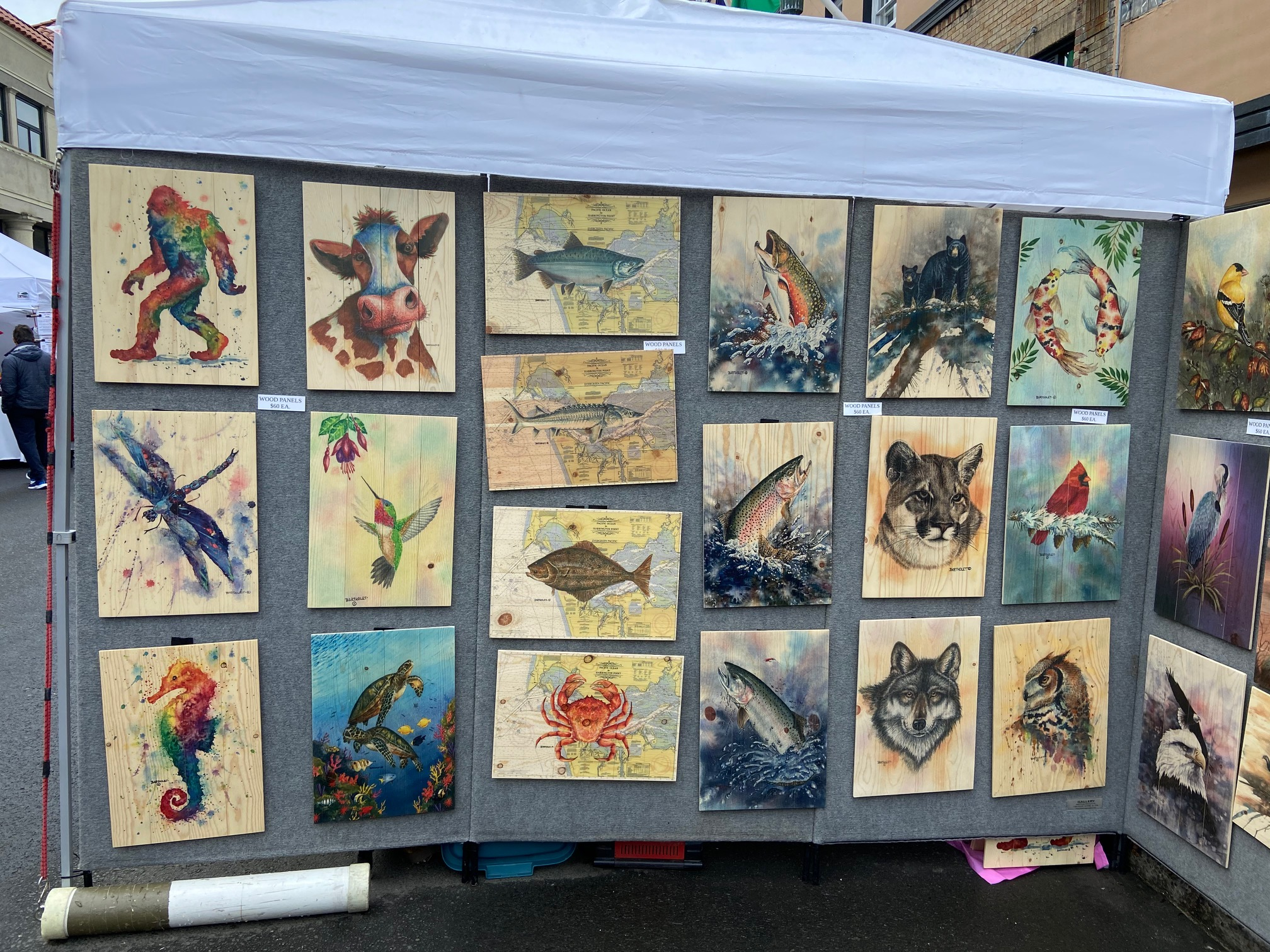 The Astoria Sunday Market brings together more than 200 local vendors downtown from May through October. At the Market, you'll find locally crafted art, gifts, décor, amazing food, live music, and more. Lots of the vendors are farmers and nurseries, so if you want more plants for your home or want to start a garden, stop by!
Local culture blooms at the Astoria Sunday Market, and it's a wonderful way to support regional farmers, artisans, and local craftspeople. You'll feel like part of the community as you browse booths and munch on local cuisine, making the Astoria Sunday Market one of the best (free!) things to do in Astoria, Oregon.
Astoria Riverwalk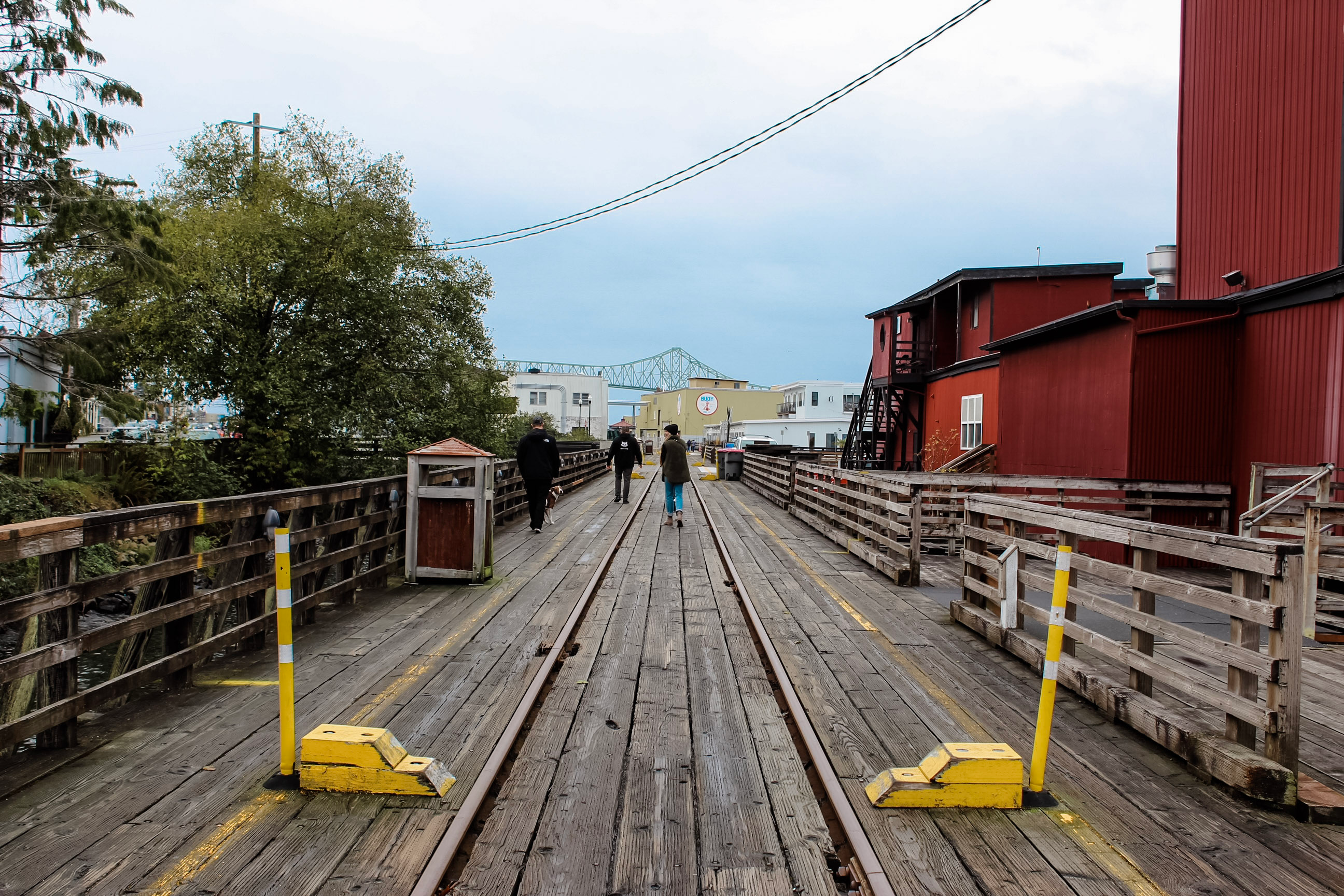 You can stroll along the Columbia River for miles along the Astoria Riverwalk. Watch the ships chug along, or pop into the local shops and eateries that dot the path. There are signed posted along the riverwalk you can read to learn some history about the area.
If you're feeling athletic, sign up for the Astoria Run on the River – my dad and I ran it this past year and it was a blast – even in the rain! Whether you walk or run, you get to cruise along the Astoria Riverwalk for miles. Registration includes drinks and a meal from local breweries and food trucks after the race.
Astoria Waterfront Tours
Boat lovers and history buffs, rejoice – you can cruise around the Columbia River on a restored former pilot launch, Arrow No. 2. The owners do an incredible job maintaining and operating her, and they give tours where you can learn about the boat's history as well as the maritime history of Astoria itself.
During fall and winter, you can book a crabbing trip aboard Arrow No. 2. There's nothing better than catching your own dinner – especially when that dinner is fresh, local Dungeness crab!
➤ Want to know what to pack for your trip? Check out these 5 travel essentials for visiting Astoria.
Galactix Arcade & Taphouse
If you're looking for unique things to do in Astoria, Oregon, get your game on at an arcade bar. Immerse yourself in a sci-fi-themed setup at Galactix, where you can play old school arcade games and enjoy an extensive selection of local brews. If you've ever wanted to crack a beer aboard a spaceship (haven't we all?), Galactix might just be your new spot.
Attractions in Astoria, Oregon
Garden of Surging Waves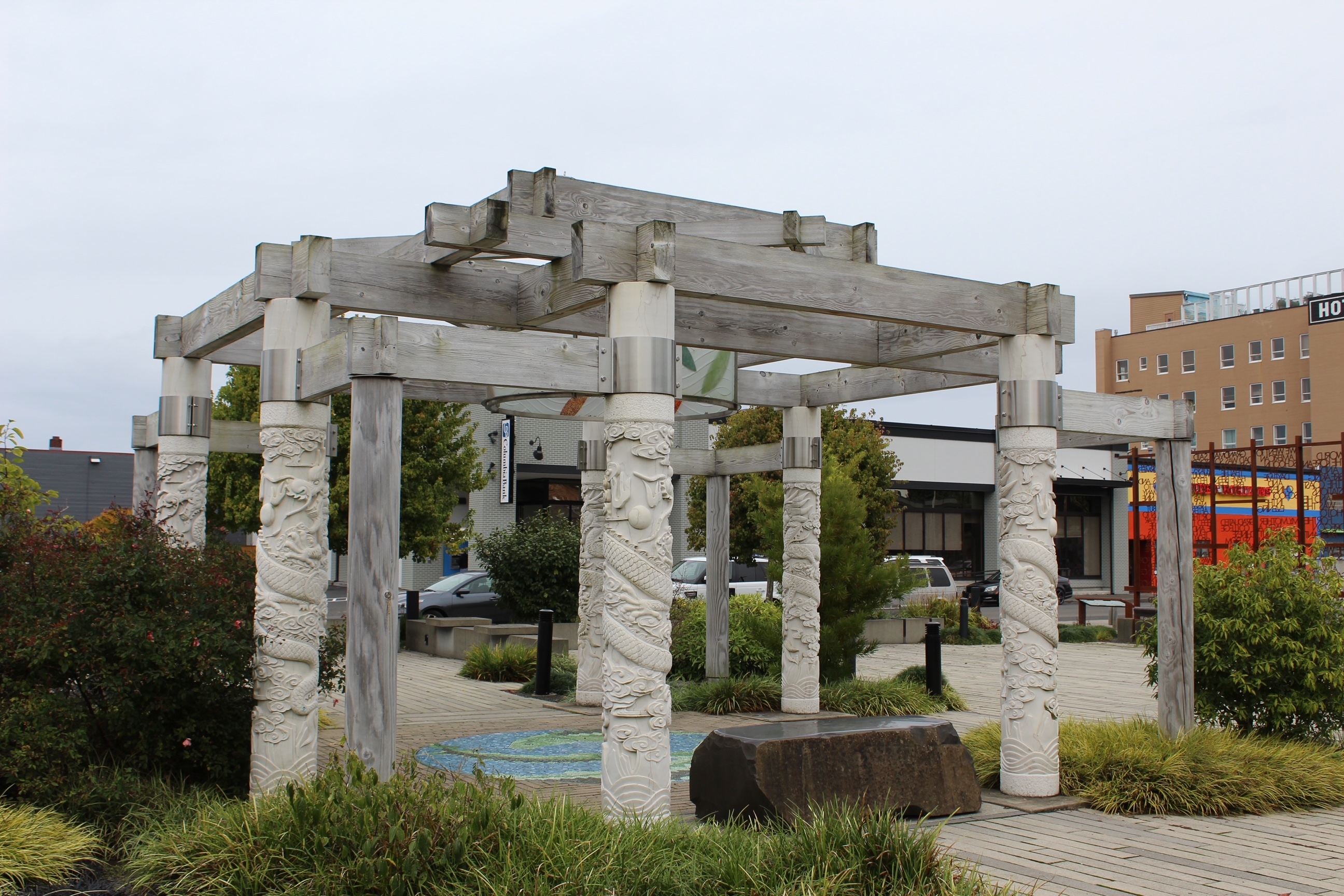 The Garden of Surging Waves was created to pay homage to Astoria's Chinese heritage. In Astoria, Chinese people contributed significantly to the town's success in the fishing industry. This beautiful park is a way to publicly recognize the contributions and presence of Astoria's Chinese community.
You'll find plants in the Garden that are native to both China and the Pacific Northwest, symbolizing the connection between the two locations. Along with a gorgeous bronze moon gate, you'll see detailed dragons carved into marble columns. Take a walk through the garden, admire the artwork, and learn something new about Astoria's Chinese heritage!
Astoria Riverfront Trolley
Don't want to walk all 12.8 miles of the Astoria Riverwalk? Hitch a ride on the Astoria Riverfront Trolley instead! The trolley is a streetcar that was built in 1913 – now fully restored and running like a dream. It only costs $1 per ride, or $2 for an all day pass, and can take you throughout downtown Astoria in style.
The Astoria Riverfront Trolley operates regularly during summer months, and less frequently during the off season. You can actually track the trolley on their website, which can be helpful when you're trying to flag it down for a ride!
Maritime Memorial Park
The Maritime Memorial is a small park dedicated to local mariners, fishermen, bar pilots, seagoing service members, and those who felt the pull of the sea. Astoria, Oregon has deep seafaring roots, and the community values its sailors and fishermen to this day.
Astoria-Megler Bridge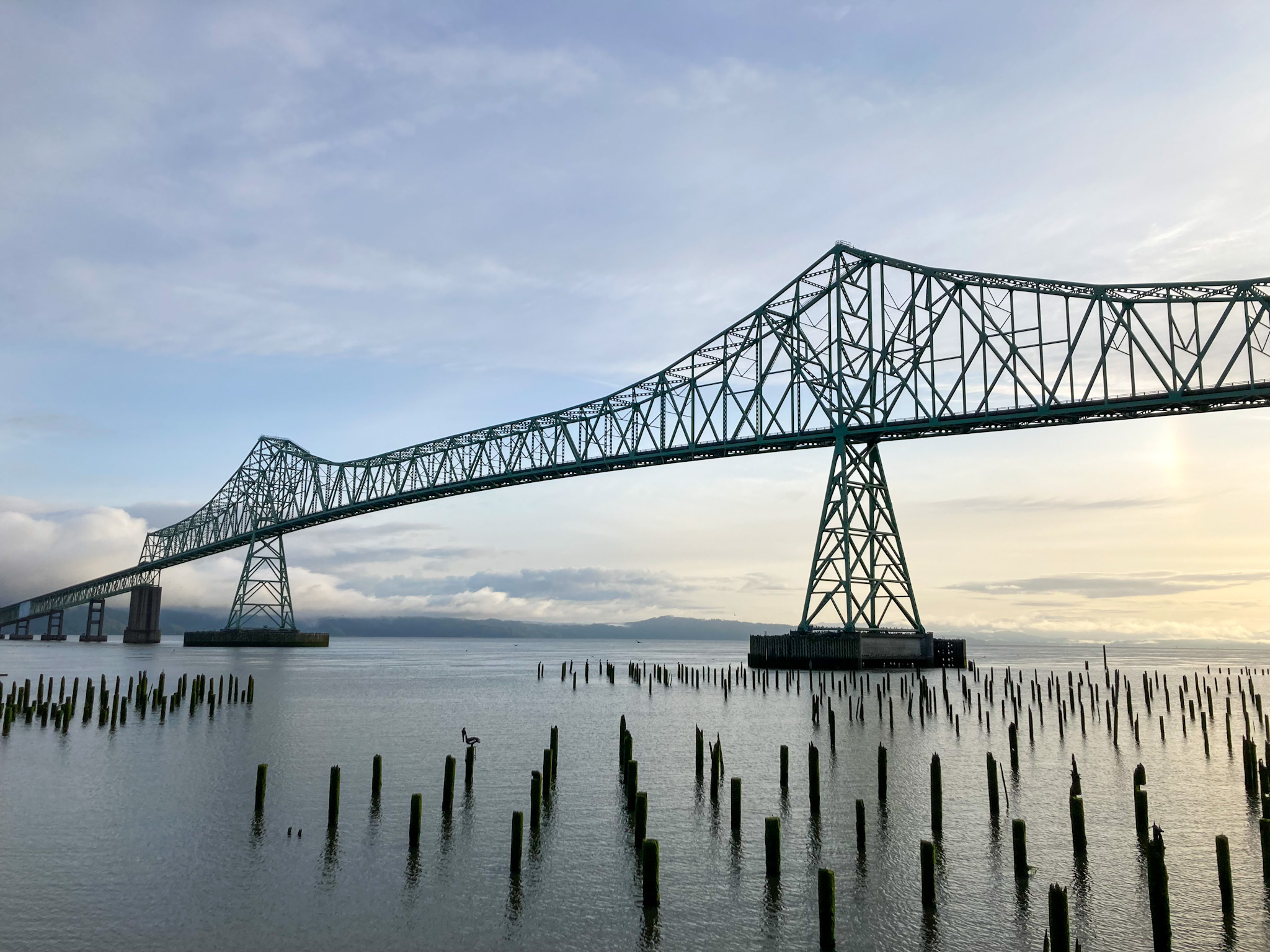 Cross the Columbia River in style and take in sweeping views of ships sailing in the river and lush coastal forests on the Astoria-Megler Bridge. The Astoria-Megler Bridge connects Oregon to Washington, so you can cross the state line in just a few minutes.
The Astoria-Megler Bridge is the largest continuous truss bridge in the nation, and it's impressive to see (and drive across!). It's a truly a feat of engineering, and crossing this four mile long bridge helps you experience how massive the Columbia River is. And the scenery on the drive is not to be missed!
Museums
Flavel House Museum
Experience the glamour and exquisite detail of a Victorian era mansion when you visit the Flavel House Museum. Originally owned by Captain George Flavel, one of the earliest Columbia River Bar Pilots and richest men in Astoria history, the Flavel House Museum is filled with furniture and artifacts from Victorian times.
Hanthorn Cannery Museum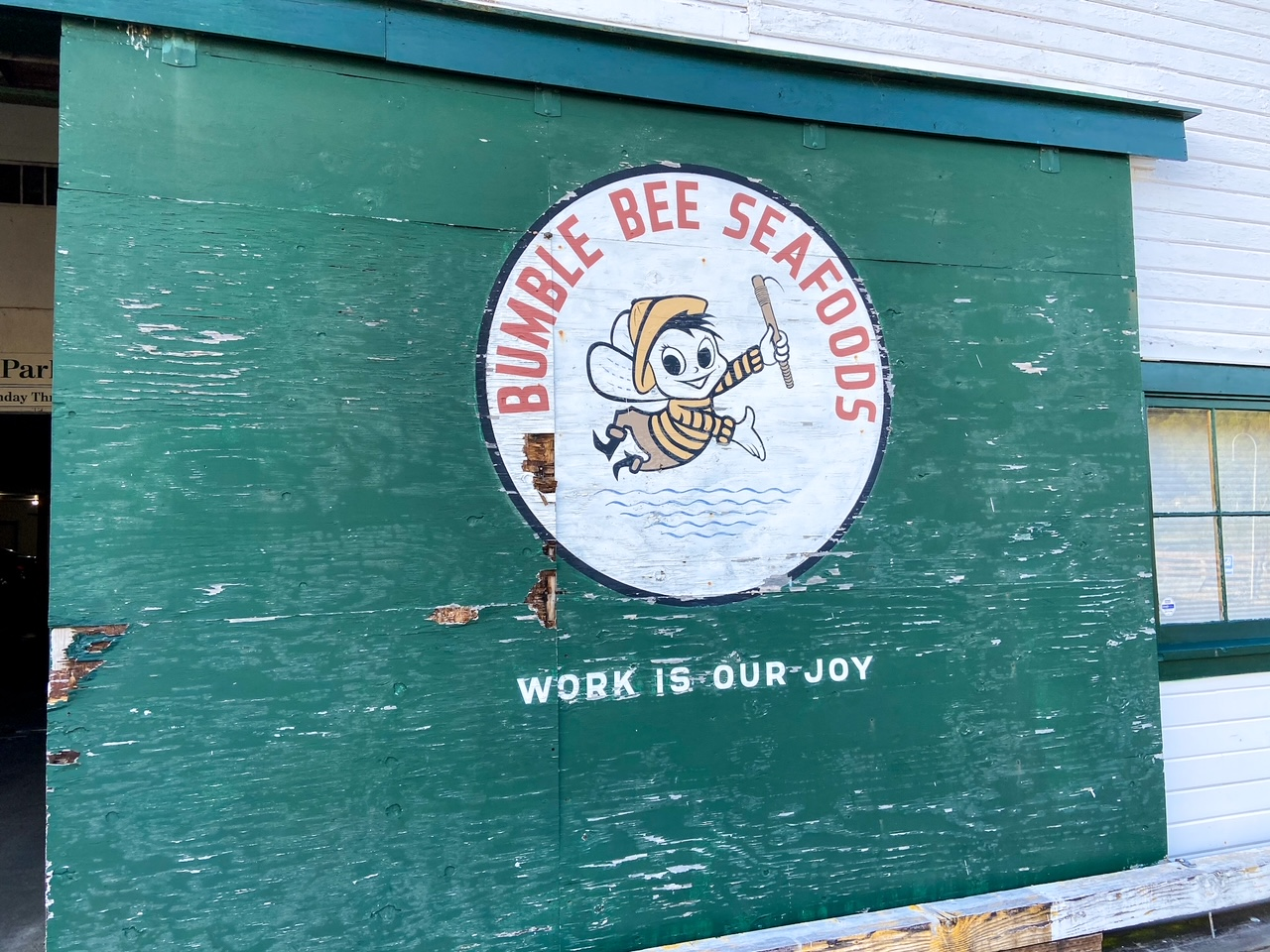 The Hanthorn Cannery Museum showcases Astoria's roots in the fishing industry, and brings the town's fishing and seafood processing history to life. This museum is located right inside the old Bumble Bee cannery on the Columbia River, and is full of artifacts you can see (for free!). From firsthand accounts of cannery workers and fishermen to actual bowpickers and canning equipment, there's plenty to explore.
Lightship Columbia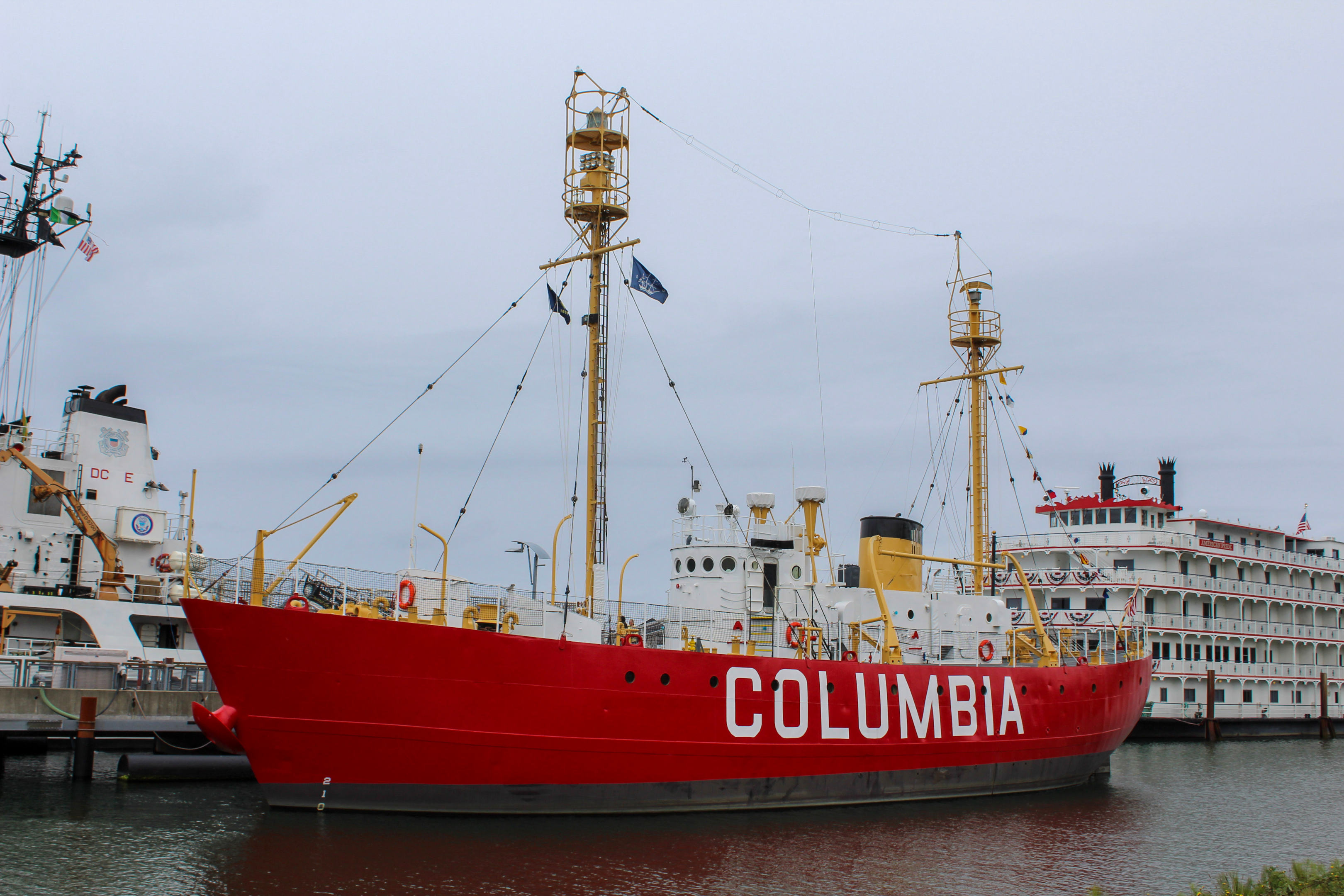 In its former life, the Lightship Columbia was a floating lighthouse at the mouth of the Columbia River. Now, it's been fully restored and welcomes visitors aboard to experience what life was like for the salty sailors who lived and worked on board.
The best part? Admission to the Columbia is included with your ticket to the Columbia River Maritime Museum! So get your sea legs ready and climb aboard after you explore the museum! There are only 15 lightships left in the U.S., so this is one of the most unique things to do in Astoria, Oregon.
Oregon Film Museum
If you're a movie buff, especially a Goonies fan, one of the best places to visit in Astoria is the Oregon Film Museum. This museum, which is inside the building that used to be the county jail, is filled with memorabilia from movies filmed in Astoria and surrounding areas on the Oregon Coast. The jail cells are still there and are on full display!
You can also flex your movie-making muscles at the Oregon Film Museum – there are five movie sets in where you can create your own short films. There's also a gift shop where you can stock up on Goonies gear.
Uppertown Firefighter's Museum
Open seasonally, the Uppertown Firefighters Museum displays firefighting equipment from centuries past. The museum itself used to be a brewery, and was later converted into a fire station. Now, it's a museum with exhibits full of vintage firefighting equipment. One of the highlights at this museum are an authentic hook and ladder truck from way back in 1876.
Heritage Museum
Inside the building that used to be Astoria's City Hall, the Heritage Museum showcases the town's history from a few different angles. The museum has permanent collections featuring Native American art, a longhouse, settlers' artifacts, and stories of immigrants from all over the world who ended up in Astoria.
The Heritage Museum hosts rotating exhibits focused on topics like Native American boarding school stories, as well as exhibits that address the history of race and discrimination during the formation of Astoria.
Breweries in Astoria
➤ Thirsty? Check out this post for the complete guide to all of Astoria's breweries!
Fort George
Fort George is home to two floors of fun, as well as plenty of must-try locally brewed beers. Upstairs, you can order from an extensive pizza menu; you can't go wrong with the Cherry Bomb – it's absolutely mouthwatering (and I say this as a native New Yorker and huge pizza snob). The downstairs area consists of a taproom, public house, and outdoor seating area – very biergarten-y.
Alright, back to the beer – which you can order and enjoy upstairs or downstairs. Fort George brews it all – IPAs, pilsners, stouts, the list goes on. They also offer seasonal beers (try the Farmers' Annuary!). The vibe is super relaxed and welcoming, making Fort George the perfect spot to meet up with friends for a drink or enjoy dinner with your family.
Astoria Brewing
Brew with a view? Yes please! Astoria Brewing has outdoor patio seating that overlooks the Columbia River, making it a prime spot to enjoy a beer. Or two, or three…The interior has a cozy, fun vibe, with high wooden ceilings and string lights creating an ambient glow.
Astoria Brewing obviously offers beer, but they also run creative drink specials, so you can try drinks you can't get anywhere else. Their "Rum Raisin Cookie" drink is a satisfying choice for those rainy winter days in Astoria.
Rogue Pier 39 Public House
If you're into local beer and fried cheese curds, I found the place for you. Rogue Pier 39 Public House is a brewery (you guessed it) at the end of a wooden pier on the Columbia River. As far as views go, it doesn't get any better than the window seats here.
Rogue has 30 beers on tap, a cocktail menu, and a bar food menu that'll make your mouth water. Plus, it's right next to the Hanthorn Cannery Museum – so you can knock out two places on this list in one trip!
Buoy Beer Company
While Buoy Beer Company's original location is currently closed for construction, its temporary home is currently a downtown hotspot. Established right here in Astoria in 2014, this brewery makes some of the best beer in town. From its original Northwest Red to its Cream Ale (my personal favorite), there's a beer for everyone here.
Reach Break Brewing
Reach Break Brewing is all about the PNW and the people who call it home. With more than a dozen diverse beers on tap and a few flavors of hard seltzers to call their own, ordering a flight is a great way to try a little of everything here. Reach Break Brewing also hosts food carts like Wahoo Charlie's and Coastal Smash, so you can enjoy a meal with your local brews.
Outdoor Activities
Cathedral Tree Trail
Feeling outdoorsy? Trek along one of Astoria's most popular hiking trails – the Cathedral Tree Trail. This 1.6 mile out and back trail leads you to a massive Sitka spruce with a hollow trunk. It's pretty impressive to see, and you can climb inside to see it from the inside, as well. The trail is lined with lush trees and massive ferns, so both the journey and the destination are sights to see on this trail!
Note: there are two access points you can use for this trail. One access point is at the Astoria Column, so you can knock out two Astoria tourist attractions in one trip!
Youngs River Falls
If you're looking for a waterfall hike close to Astoria, Youngs River Falls is a fantastic place to visit. Youngs River Falls is an impressive 65 foot waterfall that cascades down a rocky wall. It's pretty easy to get there – the walk to the falls is only 0.3 miles – so this is a family-friendly expedition.
If you visit in the fall, you'll be rewarded with colorful foliage in all your favorite autumn shades. During summer, lush greenery surrounds Youngs River Falls, and you can even take a dip in the shallow water at its base.
Lewis and Clark National Historical Park
In 1805, the Lewis and Clark expedition hunkered down for winter in Astoria, Oregon. They settled on the river, establishing Fort Clatsop. Now, you can explore the fort, learn about native heritage, and hike through trails at Lewis and Clark National Historical Park.
Lewis and Clark National Park hosts guest speakers, as well as events for kids to learn more about nature. During tourist season, park rangers dress up in 1800s-style costumes and teach kids about what life was like during the Lewis and Clark expedition. If you're looking for things to do in Astoria, Oregon with kids, put this park on your list!
Nordic Heritage Park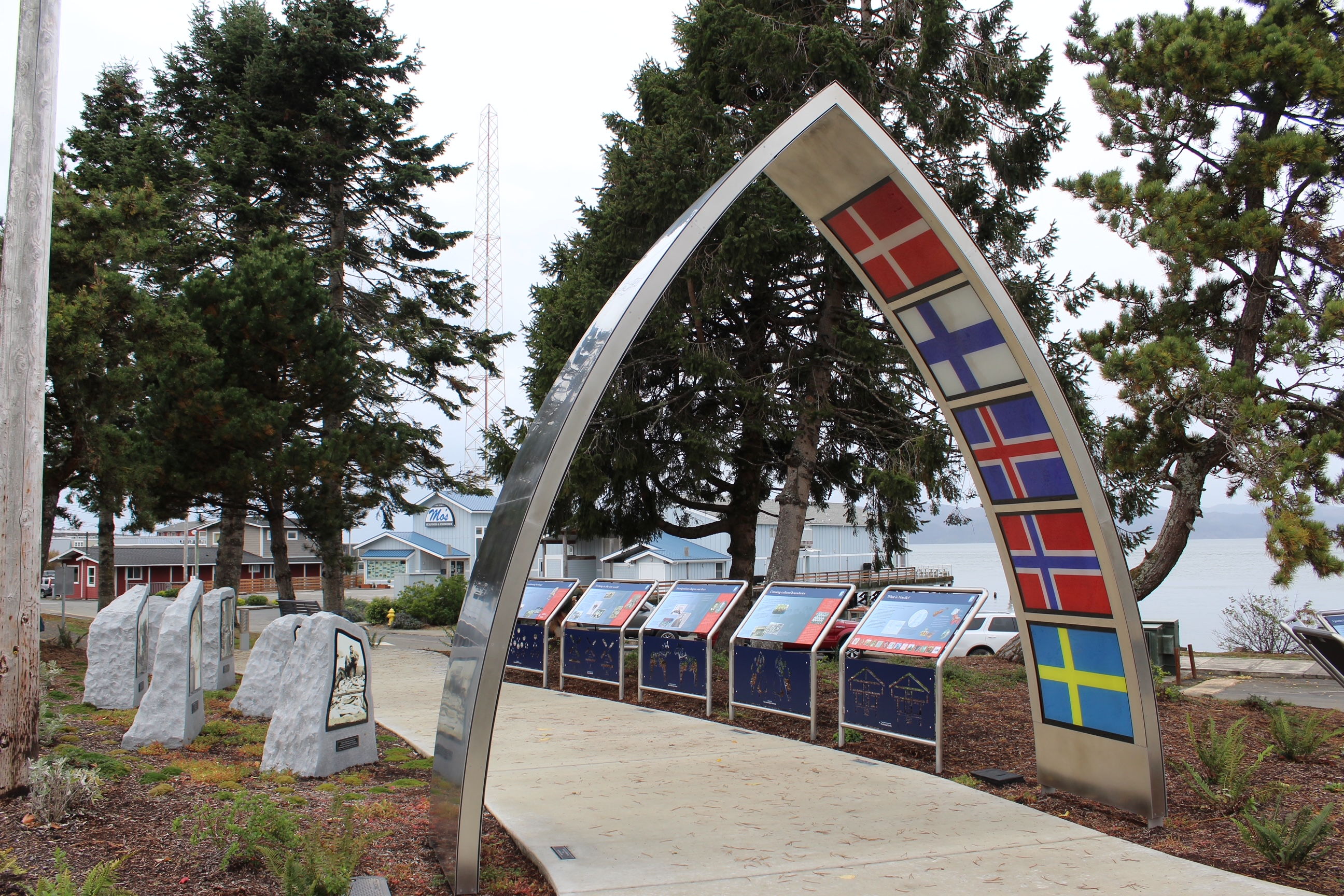 Astoria's newest park, Nordic Heritage Park opened this past summer at the Astoria Scandinavian Midsummer Festival. The park's main feature is boat-shaped arch lined with the flags of various Nordic countries. You can walk beneath the arch and read educational signs about Nordic heritage in general, as well as in the Astoria area.
Tapiola Park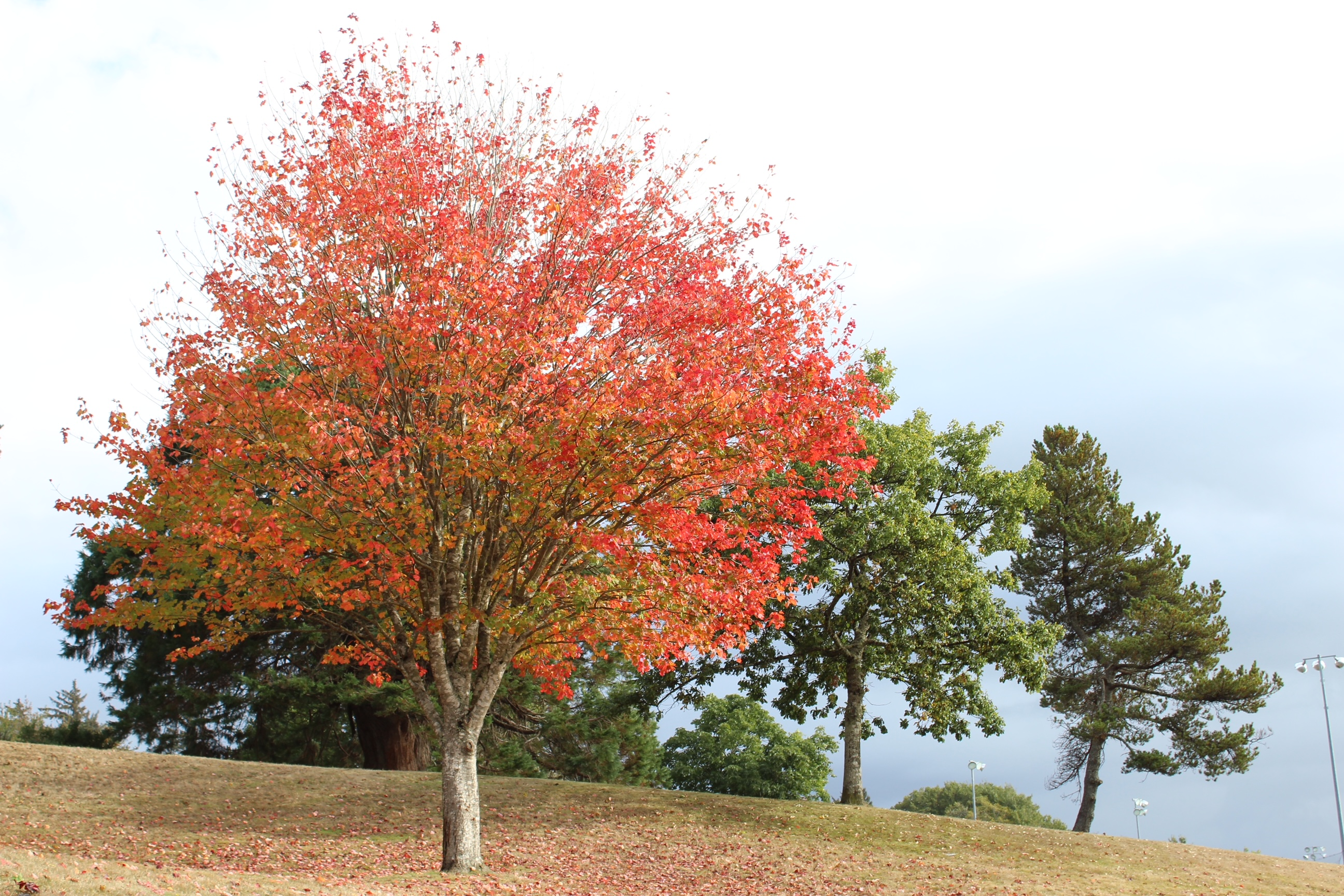 If a relaxing family picnic at the park sounds up your alley, Tapiola Park is your spot. This park offers sprawling grass, a covered picnic area, a basketball court, and a huge playground. You'll also enjoy views of the Youngs River from the park. Just before sunset, keep your eye out for deer – they love hanging out in this area.
Food & Drink
Food Trucks
Driving through Astoria, you'll see food trucks gathered and parked throughout the town. These trucks serve up seriously good food, so it's worth pulling over if you see one. Locals love Bucket Bites, Surf 2 Soul, and Roll and Bowl, just to name a few. Whatever you're in the mood for, there's a food truck here waiting to satisfy that craving!
Clam Chowder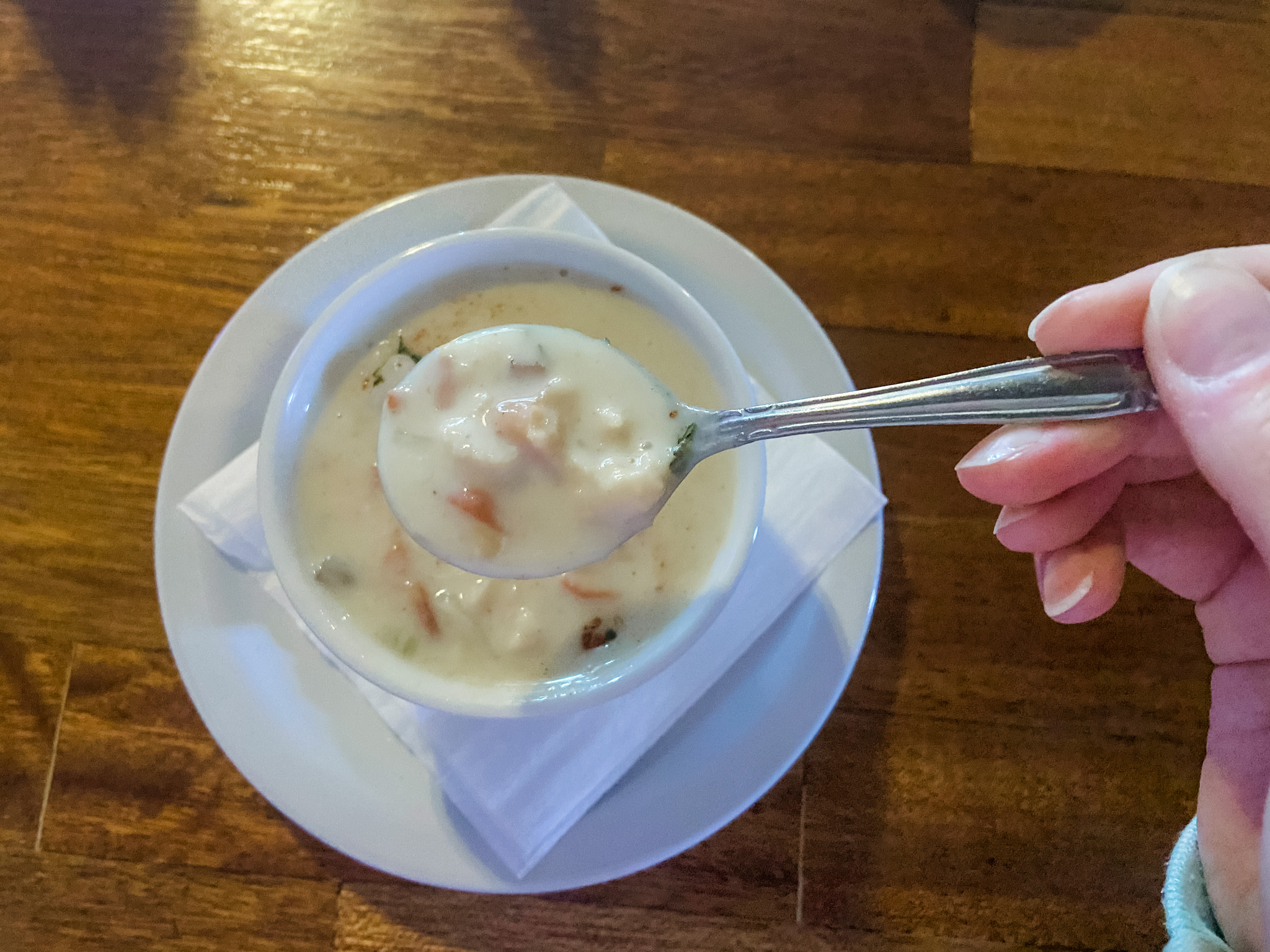 One of the top local foods to try in Astoria is clam chowder. Clamming is big in coastal Oregon, so the chowder is always fresh and delicious. Each restaurant makes their chowder a little differently (and I know I'm a clam chowder fiend, but I'm telling you – they're truly all worth tasting). Portway Tavern serves up a mean clam chowder, and the seafood chowder at Fort George Brewing is a must-try as well.
Coffee Shops
The Oregon Coast is a hub for local coffee shops, and you'll find plenty in Astoria, Oregon. Lots of them are drive thrus, so you can savor the local flavor without bringing your road trip to a total halt. A few local favorites are the Astoria Coffee Company, Coffee Girl, Rusty Cup Cafe (their chai latte is also fantastic), A-Town Coffee, and the Blue Scorcher Bakery & Cafe.
Restaurants in Astoria, Oregon
Whether you're looking for a quick bite or a fine dining experience, you've got options in Astoria. Enjoy dinner pierside with a view at Bridgewater Bistro, or try fried alligator on a stick at Hurricane Ron's downtown. In Astoria, you'll find historical buildings that have been converted into restaurants, and the ambience inside these places makes the meals even better.
Shopping
Downtown Astoria
From art galleries and boutique shops to quirky bars and used bookstores, there's something for everyone in downtown Astoria. Each city block is filled with a smorgasbord of unique local spots, and you'll find something new every time you go. Whether you're looking for vintage clothes, plants, home decor, baked goods, a bicycle, or pretty much anything else, you'll find it here.
Antique Shopping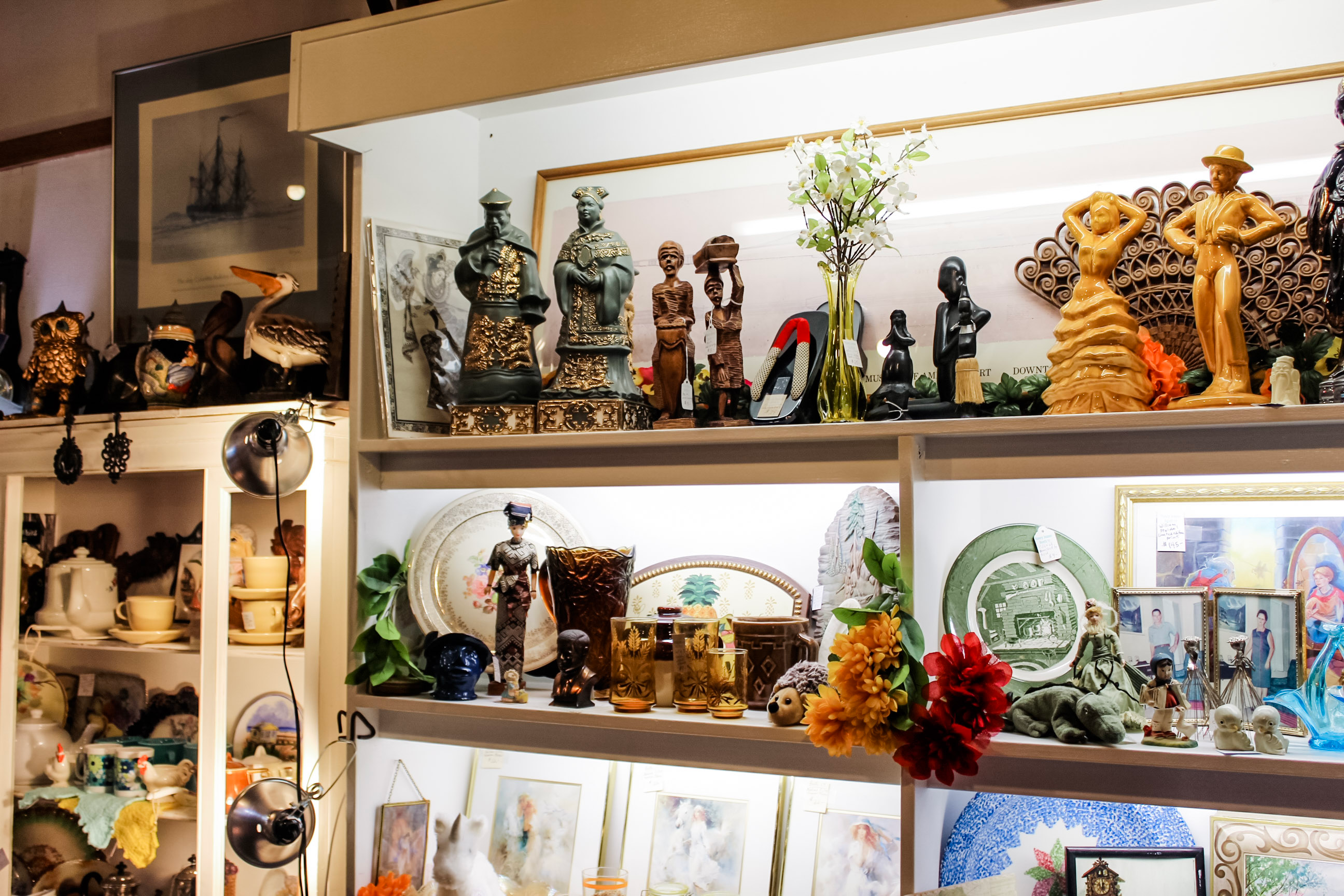 Hunt for vintage treasures at one of Astoria's many antique stores. This makes a particularly good activity on a rainy PNW day! You'll find a bunch of antique malls and stores downtown , so you can shop til you drop.
Right off the Riverwalk, Treasure Alley is an antique mall filled to the brim with vintage goodies. Since you probably plan on scoping out the Riverwalk anyway, it's a fun and convenient spot to stop in and browse around!
That's a wrap
I hope you're feeling freshly inspired for your trip to the Oregon Coast! There are a ton of things to do in Astoria, Oregon, a small river town full of fun surprises. I'm still exploring, too, so if there's anything else you think should be on the list, drop a comment for everyone!
➤ Traveling on a budget? Here's my list of totally free things to do in Astoria, Oregon, so you can make the most of your trip without breaking the bank.